Train as a professional
The work 2 day session is intended to give students an introductory understanding to Television broadcast and film. Beginning with an overview of understanding the software, the class will develop through workshop; demonstration, lecture, and performance. The first three days will be divided into three portions‐ presentation, workshop, and performance; the fourth day will be devoted to review of the compositional process and finished project. Because each student hears and sees differently, evaluating the performance will teach students to broaden their ears & eyes and listen & look in new ways. That is why we have 8-10 students per workshop. It gives a more intimate one on one relationship with the student and instructor.
If you purchased on GROUPON click here...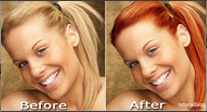 Adobe
Adobe Photo Shop ..............................................$499
Next Workshop Date:TBA June 2011 Time: 10am-5pm
This class is a beginning class, designed for people just getting into digital photography, plus an introduction to photo manipulation through Photoshop or other image enhancement programs. Photoshop is a standard name in graphic design for web use, print layout, and more. Recognized world-wide as the industry-standard, Photoshop offers one of the most robust graphics editing experiences available. Learn tips and tricks, cool effects, and how to use the Photoshop tools more effectively. This class is a fun, and robust class that combines photography, and an introduction to photo manipulation.