J3 Productions an industry leader in producing and editing your next project...
J3 Productions is an Atlanta based company started in 2005. We add a contemporary look with a cinematic feel. Our concept is based on great customer service, professional craftsmanship, a fully trained crew, HD Fly pack, with a HD multimedia video and audio studio. We are a full service production who starts from the concept all the way to the completion. From TV commericals, scripting to 3D animation, small crews to large-scale productions our creative and technical talents bringa great vibe that will not only be unforgettable but also makes us one of the great production companies in the entertainment industry. With that being said with all the talent J3 have, we want to share our knowledge and have workshops to teach high school students to adults who are interested in television.
TV Commercials Packages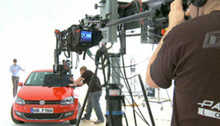 Advertise Your Business the Right Way
Would you like to have a professional TV commerical that aired on your favorite channel.
Click for Pricing